Log in to the Lounjee Page
Visit the SP Info Page
The BXAI Summer Program 2022 will be held virtually in partnership with The Hong Kong University of Science and Technology (HKUST). From August 5 to 18, approximately 50 Bai Xian Scholars from over 10 Asian countries and regions will gather on an interactive online platform to explore the theme: "The Age of Disruptive Innovation". Participants will examine the applications and implications of artificial intelligence (AI), discuss important East Asia-related issues, take part in a series of skill-building workshops, and enjoy cross-cultural activities in both online and offline settings.
The first week of the program will see scholars exploring AI-related  topics through academic sessions delivered by influential guest speakers from HKUST. Students will also participate in webinars covering topical subjects, soft skills workshops, as well as fun team building challenges designed to foster communication skills, develop confidence, and facilitate the forming of new friendships.
During the second week of the Summer Program, scholars will be invited to travel and meet one another locally to immerse themselves in cross-cultural experiences and learning beyond the virtual classroom. They will also hear from Bai Xian Alumni and guest speakers, who will share about their careers and life experiences, and have an opportunity to dialogue with the winning teams of the Bai Xian Project Award.
The Summer Program will conclude with scholars showcasing their learnings through group presentations, which will be followed by a virtual closing ceremony to celebrate the completion of the seventh BXAI Summer Program.
Summer Program Schedule (HKT):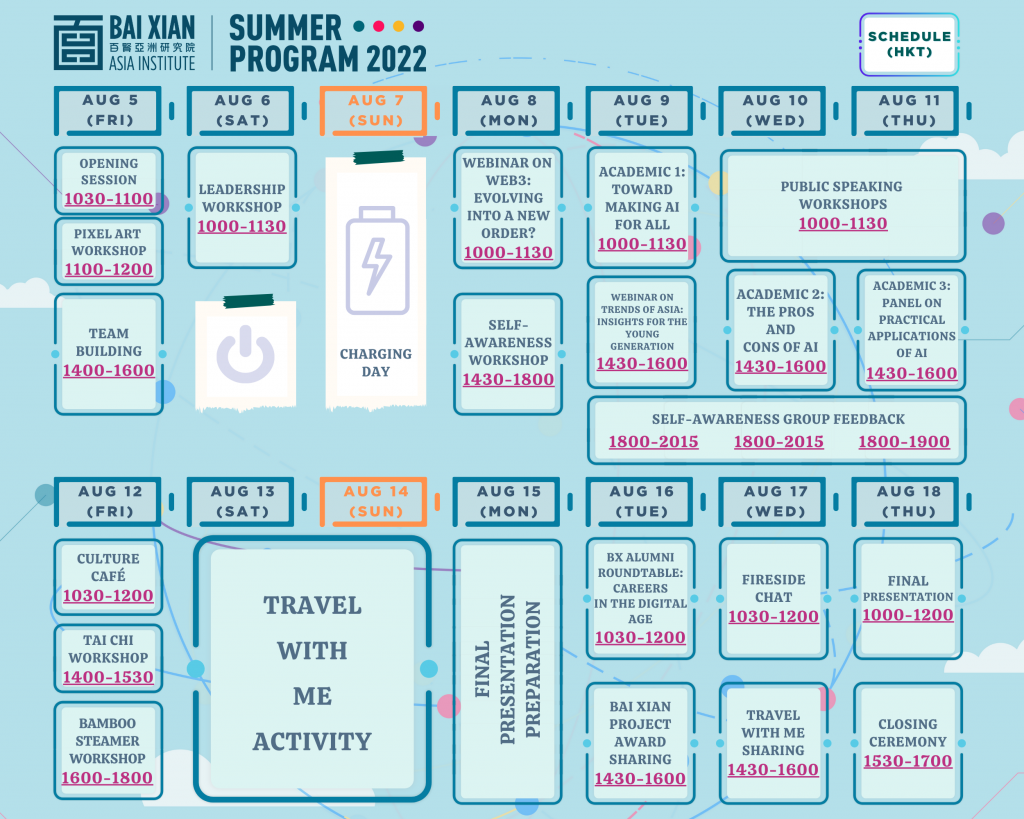 Summer Program Schedule (JST/KST):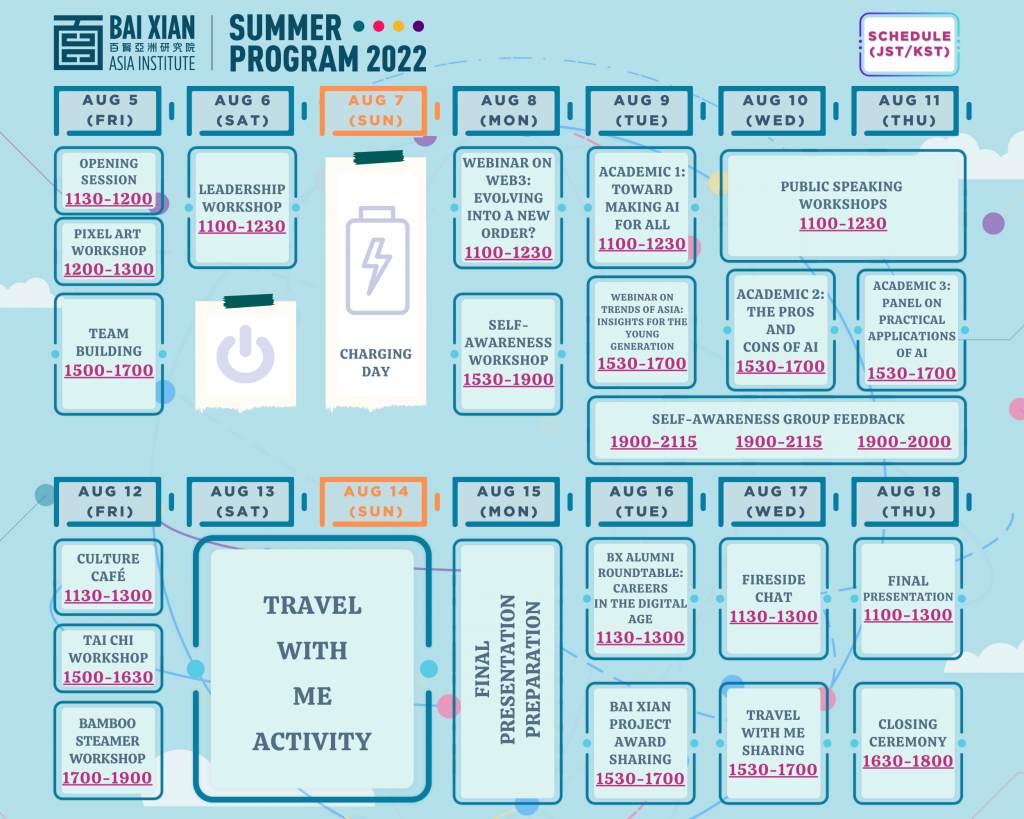 Group Tasks
Tasks: Create a group photo and a 1-min group video related to the SP22 theme "The Age of Disruptive Innovation" and/or BXAI
1)  Group photo
Be creative – Are you tired of taking regular Zoom group screenshots?  Try making it fun and special!

Create it via Zoom or photo-editing software/App
2)  Group video
Create a group highlight video within 1 minute

(e.g. Zoom recordings, behind-the-scenes, and time-lapse videos)

that will be featured at the Closing Ceremony

Feature all group members

[Optional] Come up with a group name and slogan
Submit your photo/video here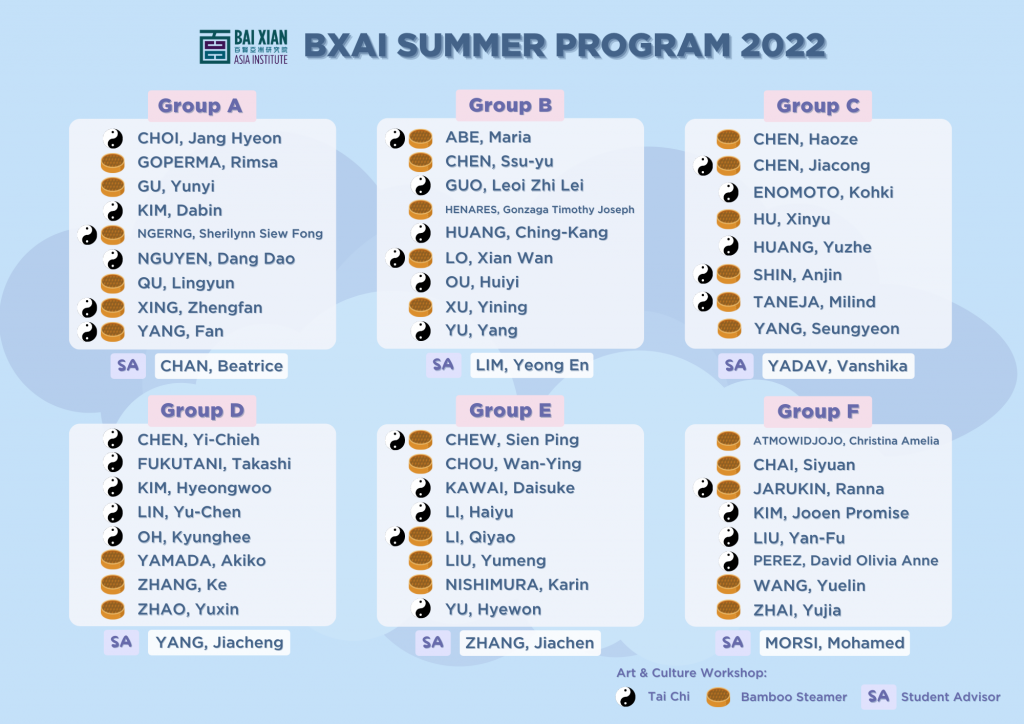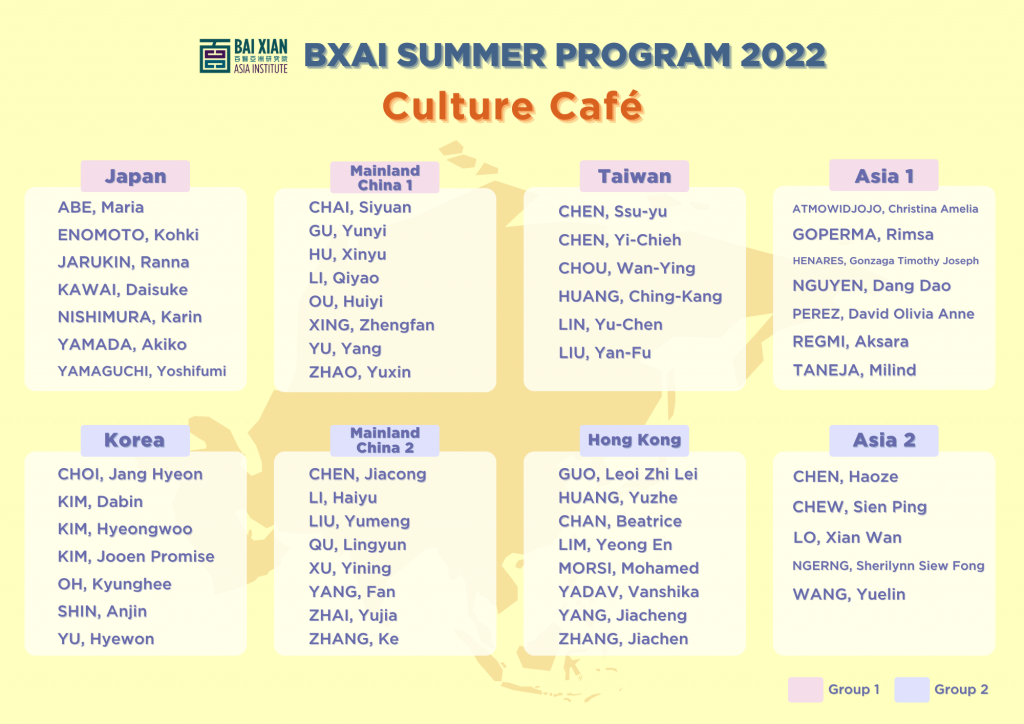 Calling all #BXSP22 participants! Join our "Daily Mission" social media campaign during the Summer Program for a chance to win a special prize! Simply complete daily tasks to earn points and stay tuned for bonus tasks to get ahead of the game. Check out our Instagram and Padlet, the rules and guidelines below and be on the lookout for your first mission!
Sponsor: