Visit the SP Info Page
The BXAI Summer Program 2023 will be held in Tokyo in partnership with Waseda University from August 4 to 18.  It will be the first in-person Summer Program in three years!  Approximately 70 Bai Xian Scholars and Alumni from universities across East Asia will gather together and explore the theme "Transformation of Globalization," examining how globalization has shifted and evolved over the past few years against a backdrop of an ever-changing global landscape.
During the first week, scholars will enjoy opportunities to form new friendships, foster their communication skills, and immerse themselves in cultural experiences through team building activities and excursions to Nikko, a picturesque city located north of Tokyo.  They will also participate in academic sessions, workshops, and seminars designed for personal growth, learning, and exploration.
The second week will see participants take part in more skill-building workshops, as well as special sessions aimed at facilitating connections within and beyond the BX community, such as an alumni evening, a panel discussion with entrepreneurs, and a modified "Travel with Me" activity.
Towards the end of the program, scholars will deliver group presentations to share their learnings, and celebrate the completion of the

eighth BXAI Summer Program

at a closing ceremony and gala dinner

alongside their fellow scholars, alumni, and BX community members.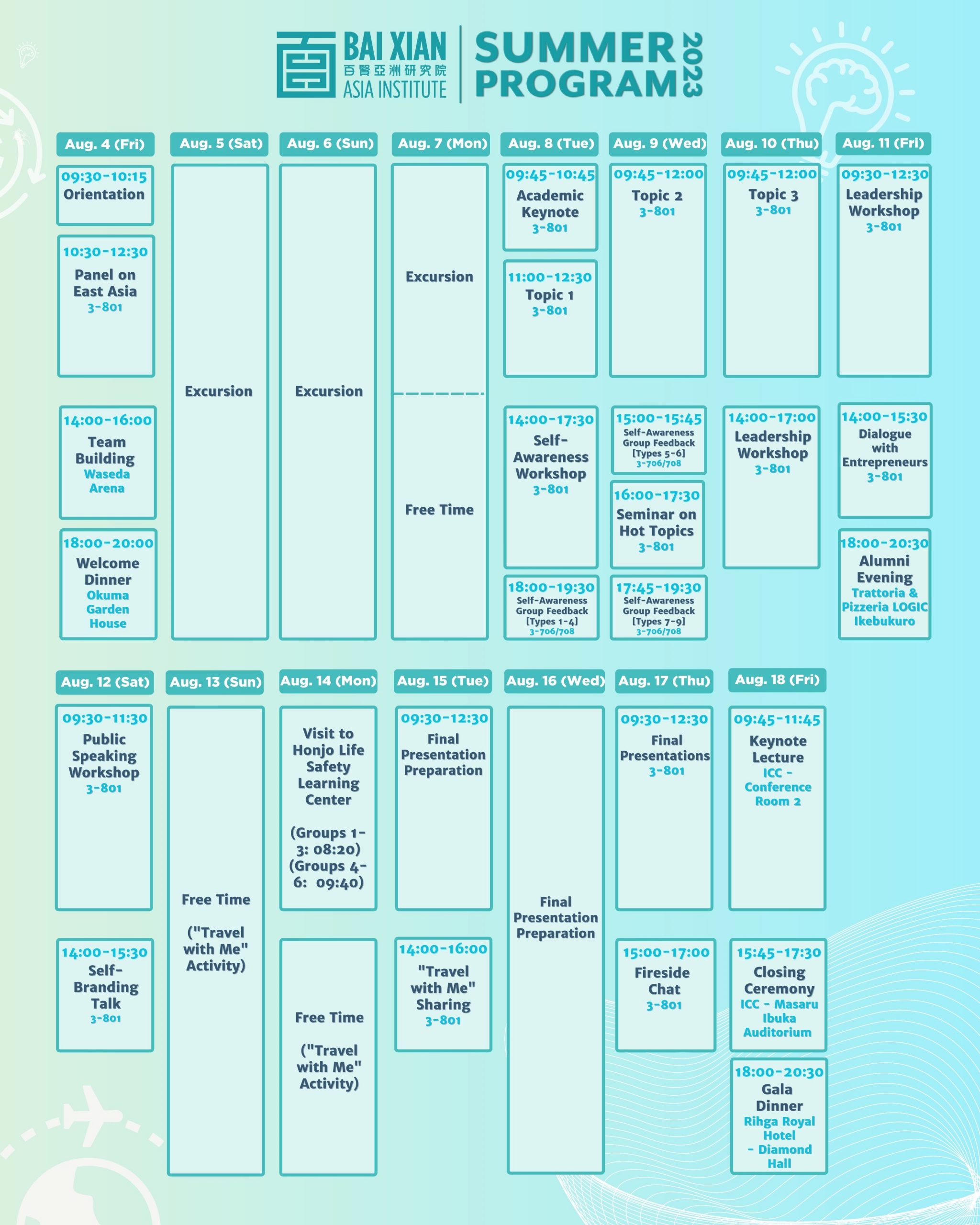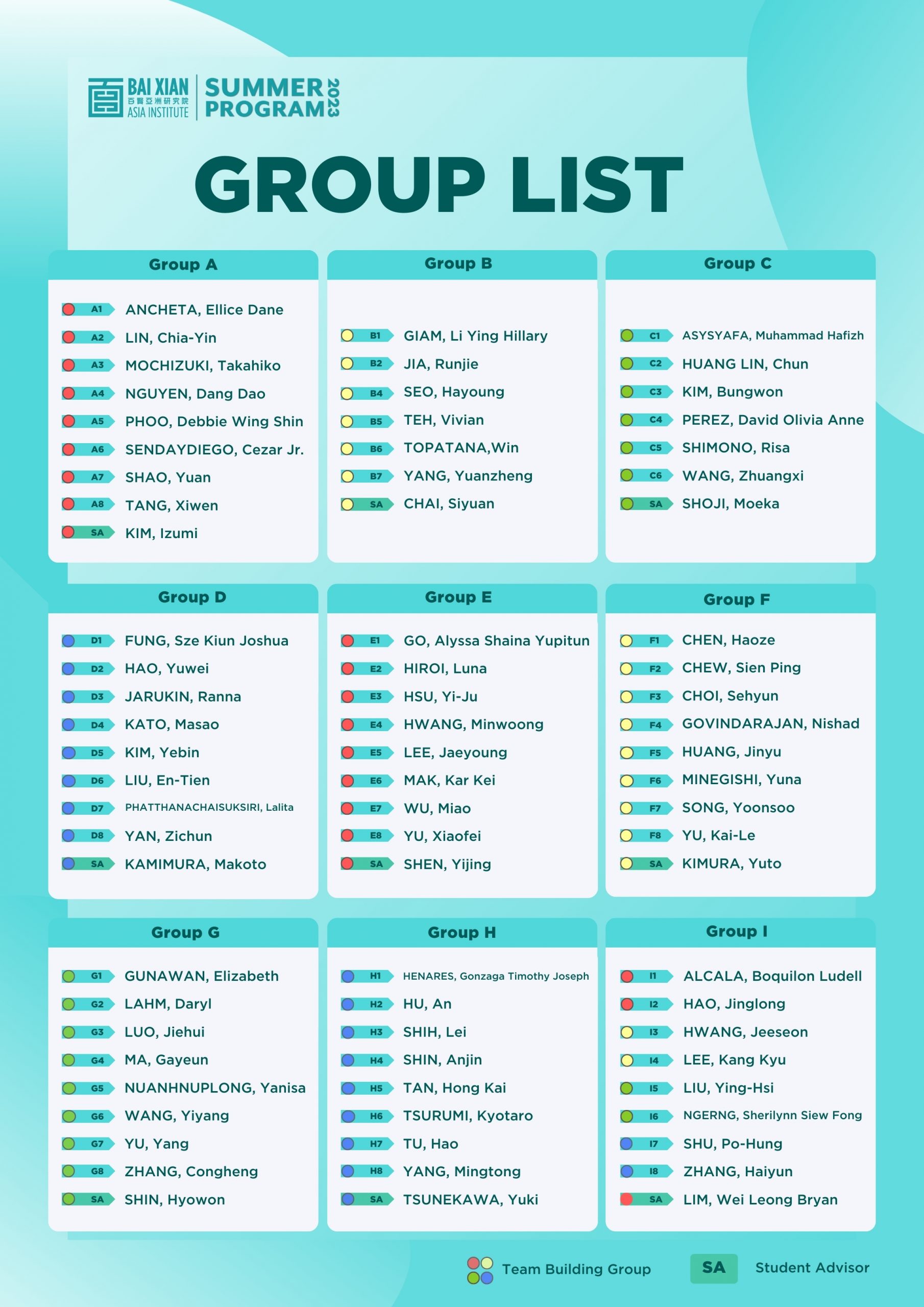 Group Tasks
Take a fun group photo and create a 2-to-3-minute group video
1)  Group photo
Snap a group photo featuring fun/unique hand gestures or creative group formations during the excursion!

Be creative!  Don't settle for a simple V-sign or heart gesture – think out of the box and make it original and fun!

2)  Group video
Create a short group video (2 to 3 minutes) featuring the most memorable moments from your excursion.  The video will be showcased during the Closing Ceremony.
All group members should be featured prominently within the video.

Give the video an interesting theme/name, such as: "Exploring Japan with Friends at the BXAI Summer Program 2023," and place it at the beginning of the video.

Make sure to film horizontally for the uniformity of the video.

[Optional] Come up with a group name and slogan
Prize for Best Group Tasks
The prize for best group tasks will be given to the group with the most votes for best photo and video.  The winning team will be announced during the Gala Dinner.
Submission Deadline for group tasks: August 9, 2023
Submission
Share on Padlet
Attention #BXSP23 participants! Don't miss our "BXplorers on a Mission" social media campaign, where you can complete tasks and earn points for a chance to win a special prize! Bonus tasks are also available to turbo-boost your points. Check out the campaign rules and guidelines here, and stay tuned for the first mission. Let's go, BXplorers!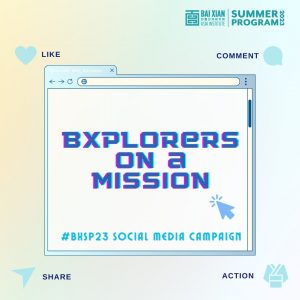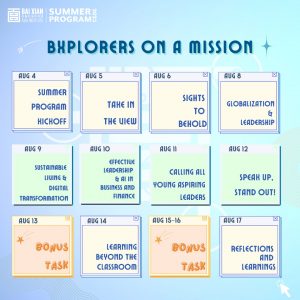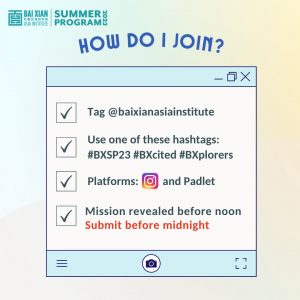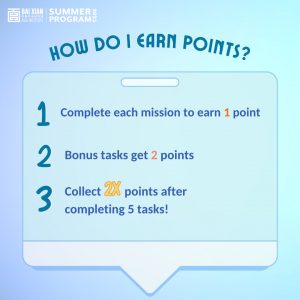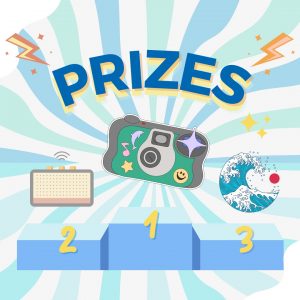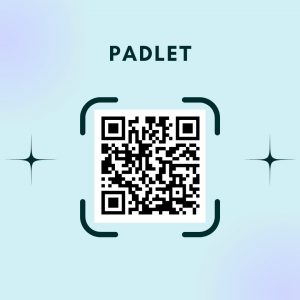 Sponsor: