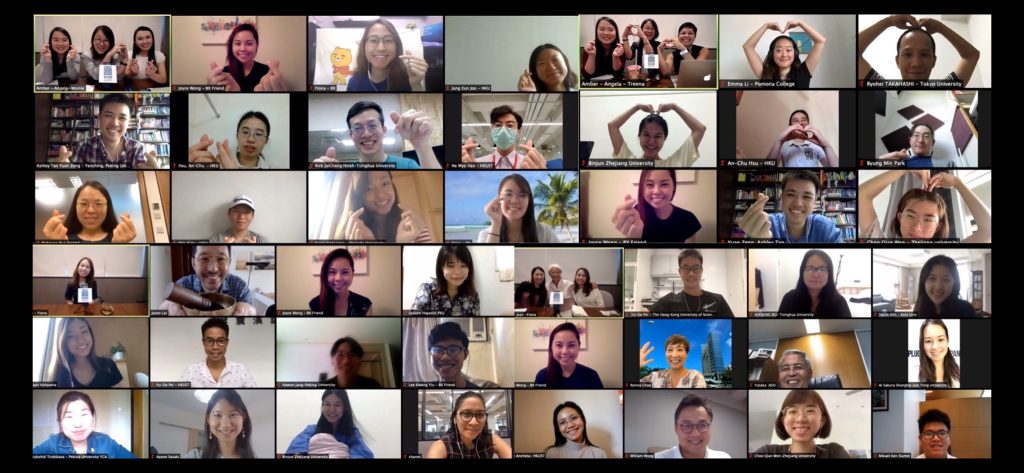 Although we were not able to meet face to face as planned this summer, BXAI organized a series of
Virtual Community Events
between June and August 2020 to connect and engage the Bai Xian community. Through a variety of online activities including webinars, community building opportunities, and soft skills training workshops, BX scholars and friends were treated to an exciting season of learning, exploration, and growth as they built bridges with one another, fostered adaptive leadership skills, and discussed critical issues brought about by the global crisis.
The Virtual Community Events series kicked off with "Coffee Time with the BX Community" on June 17 led by our CEO, Ms. Ronna Chao, and President, Prof. Katsuichi Uchida. They discussed "The New Normal", sharing candidly about their personal experiences during the pandemic and thoughts about the post-COVID world. Four more "Coffee Time" sessions followed over the subsequent six weeks: Ms. Jean Sung spoke about personal branding, Mr. Jason Lai led a "Wellness in Tough Times" session which included a 10-minute guided group meditation, Ms. Mary Anne Choo shared about post-pandemic challenges and opportunities in the financial sector, and Ms. Angela Cheung divulged "the best career advice no one tells you".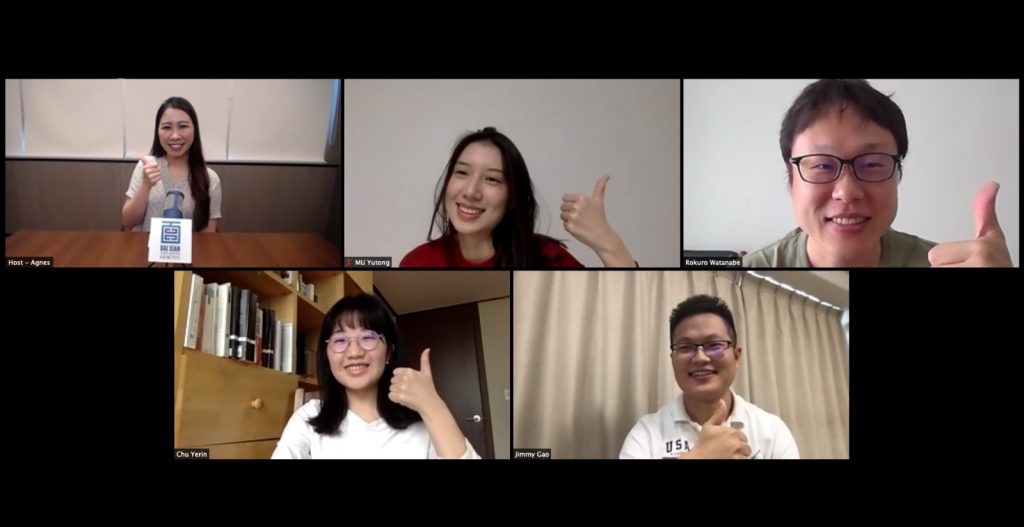 On June 26, four Bai Xian Alumni hosted a career talk, addressing everything from job hunting and interviewing during a pandemic to different workplace cultures, working abroad, and transitioning from school to work. It was a particularly helpful session for current scholars, who also had an opportunity to put forth specific questions to the graduates and hear viewpoints from different industries.
Three webinars were held in July and August, each of which was led by guest speakers who are influential leaders and experts in their respective fields. The first webinar, titled "How has the pandemic affected the landscape of Asia?", was moderated by BXAI Board and Executive Committee Member, Ms. Jean Sung, and featured panelists Prof. Rumi Aoyama from Waseda University; Prof. Koo Mingyo from Seoul National University; and Ms. Bing Song, Vice President of the Berggruen Institute. Exploring Asia-specific issues in the COVID-19 era, our speakers identified not only the many challenges that have surfaced but also the wealth of opportunities that have cropped up such as virtual globalization, interregional collaboration, and redefining the Asian identity. On July 31, we had the pleasure of having global sustainability expert, Ms. Janice Lao, lead a discussion on the corrosive problem of economic inequality, and what can be done on a personal level for the betterment of society. The final webinar, "What does crisis management look like for different businesses?", was held on August 6 and saw our guests Ms. Helen Chen, BXAI Communication and Development Committee member; Mr. Chan Wai, graphic recorder; Ms. Laura Cozijnsen, founder of Lighthouse Consultant Limited; and Ms. Aurea Yung, Head of Operations at Foodlink Foundation, share about challenges brought on by the global crisis. They spoke with a lot of insight about how they had to rethink and modify their business practices, look for new opportunities, and proactively prepare for future challenges in the post-COVID world.
Last but not least, scholars and alumni enjoyed the opportunity to participate in two engaging online workshops this summer: a presentation workshop titled "How to make an impression on clients, employers, and more!", and an adaptive leadership workshop. The former was led by Ms. Angela Cheung, Managing Director of APV; and Ms. Treena Nairne, Director of Dashpoint Management, who focused on strategies that help us create value for ourselves and boost "call-back-ability" when job searching or finding new clients. At the "Become an adaptive leader: starting from today!" workshop, TomorrowToday consultants Mr. Keith Coats and Ms. Tamryn Batcheller-Adams highlighted the importance of adaptability in today's fast-moving, ever-evolving world. They also spoke about how we can develop this crucial skill and build adaptive intelligence for ourselves.
It has indeed been a fruitful and rewarding summer for the Bai Xian community. Even in the midst of such challenging and uncertain times, we have been very encouraged to see so many of our scholars, alumni, and friends embrace this "new normal" by staying connected with one another and continuing to learn and grow. We look forward to meeting with you all again, whether virtually or in person, very soon. Stay safe and be well!