The pandemic has undoubtedly created a sense of isolation for many, and it has become increasingly important for us to reexamine the concept of human connection in the 21st century and pay attention to mental health. We invite you to join us at our upcoming screening of Invited In, a short film about a teenager struggling with loneliness during the pandemic and the damaging effects of social media. Ms. Yuyu Kitamura, the film's writer, director, and leading actress, will also be there to share about her journey of making this movie and the message she hopes to deliver.
Event Details:
Date: November 19, 2021 (Friday)
Time: 18:30 – 19:30 (HKT) / 19:30 – 20:30 (JST/KST)
Participants: Bai Xian Community
Meet our Speaker: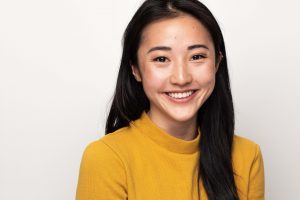 Yuyu Kitamura is a Japanese actress, poet and film maker who graduated from NYU Tisch School of the Arts. Raised in the international city of Hong Kong, she values the individuality and commonalities we all share as we look to explore human connection. Her experiences as an actress, working on production sets behind the camera, and in the office with development, Yuyu surrounds herself in creative environments that fuel her passion and creativity in the arts. When she is not acting or writing, you can find her cooking for people and begging them to eat it, sweating at a work out class (who doesn't love endorphins) or hopping around the city with her film camera. 
Register here
The views, information, or opinions expressed by speakers during BXAI's Virtual Community Events (the "Events") are solely those of the individuals involved and do not necessarily reflect the position or policies of BXAI.
Presentations at the Events do not constitute an endorsement of the individuals' views, information or opinions. BXAI does not make any warranty, express or implied, and BXAI specifically disclaims any legal liability and responsibility for the accuracy, completeness or usefulness of any information presented at the Events.
Any recorded videos of the Events are available for private, non-commercial use only. Advertising which is incorporated into, placed in association with, or targeted towards the content of any of BXAI's virtual events, without the express approval and knowledge of BXAI, is forbidden. You are not allowed to edit, modify, or redistribute the recorded videos of BXAI's Virtual Community Events without prior written consent of BXAI.
Log in to the Zoom meeting at least 5 to 15 minutes before the start of the session.

Be patient while waiting for approval to access the Zoom meeting room.

Enter your login name as follows: Your full name + university/institute (E.g. Chen Dawen – Waseda University)

Ensure you will not be interrupted or disturbed during the session.

Minimize background noise if/when you are invited to speak during the session (preferably through the use of an earphone mic).

Dress respectably and appropriately if you turn on your camera during the session.

Be respectful and patient for the duration of the session.