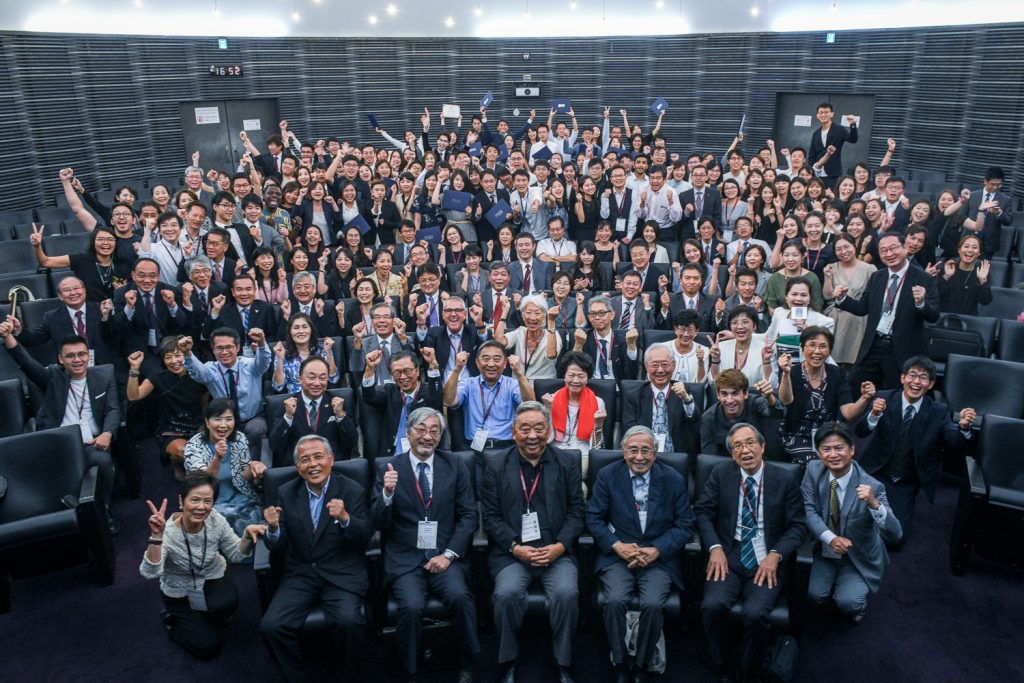 (Kyoto, August 23, 2019)  Bai Xian Asia Institute (BXAI), an education organization that aims to build bridges across cultures by providing scholarships to students in Asia to study abroad at top East Asian universities, has concluded its fifth annual Summer Program in Kyoto, Japan.  Held every August, the BXAI Summer Program brings current scholars from BXAI's Asian Future Leaders Scholarship Program (AFLSP) to one university campus for a fun and enriching two to three-week experience that is designed to extend learning beyond the classroom.
The 2019 BXAI Summer Program was held in Japan from August 7 to 21 and was organized in partnership with Kyoto University.  84 students from BXAI's 16 partner universities across East Asia took part in two weeks of immersive cross-cultural learning and exploration, examining this year's Summer Program theme of "Harmonious Coexistence" through a variety of hands-on activities, lectures, workshops, and discussion sessions.
The program kicked off in Osaka with an opening session that featured welcome remarks by Prof. Shinsuke Kawazoe, Executive Vice President of Kyoto University; Prof. Katsuichi Uchida, President of BXAI; and Ms. Ronna Chao, CEO of BXAI; and finished with an inspiring lecture on leadership by Mr. Jason Lai, Principal Conductor of the Yong Siew Toh Conservatory Orchestra and acclaimed TV presenter.  Panel sessions on sustainability and the "Asian century" followed, where students were invited to delve into these topics and consider what they mean for them as future leaders in Asia.  The two remaining days in Osaka were dedicated to fun team building activities, as well as interactive workshops and lectures delivered by influential speakers from around the world.
Scholars then traveled to Gifu, a scenic prefecture in the center of Japan, for personal development workshops on self-awareness and public speaking, both of which equipped them with important skills for their current academic life and future careers.  Students also had the opportunity to immerse themselves in local culture, taking part in the traditional Bon Dance Festival and making their way to Shirakawa-go, one of Gifu's most renowned tourist spots and a UNESCO World Heritage Site.
Returning to Kyoto for the second half of the Summer Program, scholars dove deeper into the theme of "Harmonious Coexistence" through three academic sessions that addressed key issues pertaining to the future with 2050 as a reference point.  Led by Kyoto University professors and esteemed speakers from leading universities and organizations across Asia, the sessions included: "Sustainable Food System: Smart Agriculture and Food Security," "Coexistence for the Future: Urban and Rural, Humans and AI," and "Innovation and Long-Standing Business: Kyoto's Long-Standing Companies."  Complementing the academic sessions were illuminating talks on social and cultural topics, as well as a half day dedicated to Japanese art and culture, where students participated in a taiko drum class, zazen (a meditative discipline), and Kyo-wagashi dessert-making.
The third Alumni Initiative Award (AIA) pitch session took place on August 19, with two finalist teams presenting their socially responsible action plans in a bid to win a USD 2,500 cash prize and up to USD 15,000 in seed funding.  Members of the Ethnic Neighborhoods team spoke about their desire to foster cross-cultural understanding by highlighting immigrant community stories through creative video content, while the Tara Jaan Project presented its plan to revitalize the community of Bodh Gaya in India through permaculture and education initiatives.  The judging panel, which included Ms. Mary Anne Choo, Managing Director at Goldman Sachs Asia; Ms. Bing Song, Vice President of the Berggruen Institute; and Mr. William Wong from BXAI's Executive Committee, ultimately awarded the grant to Ethnic Neighborhoods, which comprises Bai Xian Alumni Daum Kim and Jimmy Gao, as well as team member Hiroki Kawauchi.
After three days of preparation, scholars delivered their final group presentations – the culmination of their Summer Program learning and experiences – on August 20 before a panel of judges and an audience of their peers.  Addressing the assigned topic: "Transforming knowledge into an action plan: how can you contribute to a better Asia?", students presented innovative solutions to a wide variety of issues ranging from food waste and pollution to cultural bias and discrimination.  One group created a video that explored the subject of mutual understanding between people from different countries, while another suggested the use of social media to ease hostility amongst Generation Z individuals.  The winning team, Group A, proposed tackling the issue of food waste in convenience stores with a mobile application that connects the government, convenience stores, and underserved communities or families in need of food.
Students also had the opportunity to attend a career panel discussion led by Bai Xian friends and alumni, as well as a fireside chat with members of BXAI's leadership, which included Mr. Ronald Chao, Honorary Chairman of BXAI; Prof. Takanori Kitamura, Executive Committee Member of BXAI; and Ms. Jean Sung, Board and Executive Committee Member of BXAI and Head of The Philanthropy Centre, Asia at J.P. Morgan Private Bank.  Sharing about their personal experiences and views on leadership, education, and identity, the speakers also engaged with students in a thought-provoking Q&A session and emphasized the importance of listening to one another, embracing diversity, and recognizing one's own values and principles.
The Summer Program concluded on August 21 with a day of closing speeches and celebrations, starting with a morning keynote lecture delivered by returning speaker, Mr. Jason Lai.  Using the act of conducting as a metaphor for leadership, Mr. Lai spoke about balance, teamwork, personal integrity, and body language, and invited a few students to try their hand at conducting an actual orchestra to experience the importance of communication in leadership.  The Closing Ceremony kicked off in the afternoon with a meaningful video that was specially created to celebrate BXAI's fifth anniversary.  The keynote speech was given by Mr. Kyle Obermann, a China-based environmental and adventure photographer, who shared about his decision to follow his passion and the power of collaboration.  In BXAI tradition, the Closing Ceremony ended with a handover ceremony, where Prof. Kawazoe of Kyoto University passed the BXAI calligraphy book to Prof. Charles Wang Wai Ng of the Hong Kong University of Science and Technology to symbolize the passing of the baton to next year's Summer Program host.
The 2019 Summer Program officially drew to a close with a memorable gala dinner, during which some scholars took to the stage with a series of dance and music performances, while others shared about their highlights from the Summer Program.  Marking the end of another successful Summer Program, scholars, alumni, Bai Xian friends, and staff gathered together to celebrate the new friendships, experiences, and memories they had formed over the past two weeks and to welcome another year of building bridges across cultures.