[Blog] Summer Program 2021 Session Recaps: Wisdom from BX Friends
During the 2021 Summer Program, scholars and alumni had the privilege of hearing from many BX friends, not only at our annual fireside chat, but also through a new series of more intimate "Coffee & Chat" sessions, where they were able to chat with some of our BX friends and learn from their personal insights and experiences.  Find out more about the key ideas shared at each session through Chan Wai's vibrant graphic recordings below.


Fireside Chat
Moderated by BX Alumna, Eunice Kim, and featuring Honorary Chairman of BXAI, Mr. Ronald Chao; Chairman and CEO of Cornes Holdings (Overseas) Limited, Mr. Shinichiro Watari; and Head of the Philanthropy Center of J.P. Morgan in Asia, Ms. Jean Sung; this year's fireside chat sparked meaningful discussion on our perceptions of Asian identity and today's global challenges.

Coffee & Chat with BX Friends
Mr. Yutaka Aso and Ms. Laura Cozijnsen led a "Coffee & Chat" session on "Navigating Career & Life", where they shared about their own respective journeys and answered many of our participants' questions about passion, work, and experience.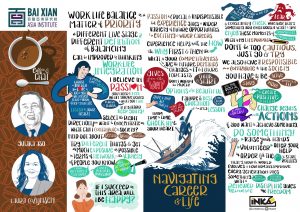 At her "Coffee & Chat" session titled "Building Back Better", Ms. Jean Sung encouraged scholars and alumni to take action on issues they care about to build a brighter future.