Ms. Jean Sung
Board and Executive Committee Member of BXAI
"It's an opportunity to reimagine what education could look like for young people, and how future education can stimulate mind growth," says Ms. Jean Sung, as she shares with us her thoughts on the new Bai Xian Project Award.  In terms of finding a project area to focus on, Jean encourages participants to identify topical issues that spark their interest, challenge them, and promote better education.  "The most important is to be honest with yourself.  Chase your own goals, what you like more, and what you would like to get up to.  If you like what you do, you'll be excited to get going every morning!"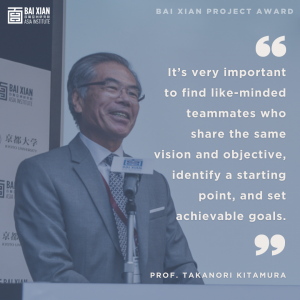 Prof. Takanori Kitamura
Board and Executive Committee Member of BXAI
When starting a project, "it's very important to find like-minded teammates who share the same vision and objective, identify a starting point, and set achievable goals," says Prof. Takanori Kitamura, who also suggests tapping into the BX network and its existing resources as a good jumping-off point for those interested in participating in the Bai Xian Project Award.  To get your creative juices flowing, some initial ideas put forward by Prof. Kitamura include setting up English learning platforms with local high school students as a way to promote intercultural exchange, and exploring the challenges and opportunities in tourism in the post-pandemic era. We hope this offers you a spark of inspiration!


Ms. Yvette Yeh Fung
Board and Executive Committee Member of BXAI
Thinking about applying for the new Bai Xian Project Award?  Ms. Yvette Yeh Fung advises participants to spend "A LOT of time" understanding their beneficiaries and stakeholders when initiating a new project, while also considering sustainability and their end goal. Some of Yvette's project ideas include developing innovative solutions to benefit the elderly and designing an effective virtual platform for intercultural exchange (beyond Zoom).  Most importantly, "be open-minded, transparent, and don't be afraid of failure," she says.  "Learn from your experiences and success will come."

The Bai Xian Project Award is designed to support Bai Xian Scholars and Alumni in kick starting short-term projects across the areas of social innovation, intercultural exchange, and East Asia research.  Apply by May 31, 2021 and take the first step in realizing your vision for change!
More info